---
Mohawk Valley Art & Woodcarving Association
---
May 2000
By Mike Bloomquist
Sorry everyone, but we are going to wax prolixic again this month! Anyone who doesn't recognize the 'P' word is required to review last month's newsletter. You obviously weren't paying close attention. The verboseness cannot be avoided. Your newsletter author attended his first woodcarving workshop and his (ummmm... 1... 2... 3... ) seventh MVAWA Woodcarving Show during a five day span, and there's just too much to relate. This might require two installments. Oh, and then there's the May meeting... that he didn't attend. Well, there's only so much even a young woodcarver can physically handle. It was a lousy way to start the week since I missed the decorative carving program by Walt LeClair, Joe Rusik and Mike Fields. I beg forgiveness. Even with one overnight in Albany, Harold and I were looking at two round trips to Amsterdam and two to Albany that week. Something had to give somewhere in the schedule. If not, our wives would have had us evaluated or had lawyers serving us with papers... probably both!
The May Meeting
Your newsletter author is going to be lazy here, and insert meeting minutes as recorded by Martha Colinas. Not having been there, the usual drivel I include about the meeting would have to be fabricated. Well... that happens a lot anyway, but this month there are two unique sections to create drivel for, so...
Thirty-two members of the Mohawk Valley Art and Woodcarving Association and a guest met at the Inman Center for the May meeting. President Carl Borst presided. The minutes of the April meeting were accepted as read. A balance of $7136.89 was reported by the Treasurer. A guest, Sr. Marie Bowe was introduced.
Show co-chairman, George Hallenback, reported that $1750.00 has been Received from 50 exhibitors and 2 vendors for 80 tables. Seventy-five dinner reservations have been received. He reminded members that help is needed on Friday evening to set up tables and on Sunday at the close of the Show to take them down. For display, the tables need to be covered to the floor. Members are asked to park along the chain link fence. Saturday hours are 7:30 AM to 5:00 PM and 10:00 AM to 4:00 PM on Sunday. Morning coffee and doughnuts will be available for members and exhibitors. Lunch can be purchased in the cafeteria.
Andy Ebli, Nativity chairman said the Nativity has been photographed and will be on display during the Show and ticket sales.
Ron Redmond asked for news articles and pictures for Club history records.
Carol Ayers has patches for sale at $3.50 to members and $4.00 if purchased at the Show.
In addition to her previous contacts, Sister Mary Ellen arranged with Elisa Streeter, Channel 10, to promote the Show on Thursday 6:00 PM News. NEWW newsletter published a promo and a small ad will be in the Daily Gazette on Friday.
Walt LeClair put the Show sign on Rte 155 at the turn to Airline Drive.
Tickets and posters have been distributed. To date, 325 raffle tickets have been sold.
Andy Ebli reported that a card sent to Fred Jenzer has helped improve his condition following surgery.
Dick Moran reported that the June program will be a carve-along. In July, relief carving will be featured. The David Sabol workshop will begin Wednesday evening and conclude on Friday. Interruptions by non-participants are not welcome.
Carl Borst has Newsletters from Onondaga, Mid-Hudson and Plattsburgh carving clubs.
Mary Finlay, an Altamont Fairground Official has requested a woodcarving demo and sale during the GE Quarter Century meeting on September 9th at the Fairgrounds. Food will be available. More details will follow.
Approval to adjourn was unanimous.
Walt LeClair, Joe Rusik and Mike Fields displayed a wide variety of small decorative carvings and explained woods, techniques and ideas used to create them. A fine presentation!
Respectfully submitted,
Martha Colinas
Secretary
Our schedule for the remainder of the year:

Date

Program

Presenter

June 6

"Everyone Carves Something" Night … If you like... Fish, Feathers, Birds & Bolos! (see

previous month's program), otherwise BYOC

July 11

Deep Relief Carvings

Bud Murtlow

Aug 1

"Everyone Carves Something" Night … If you like... Deep Relief, otherwise BYOC. Bonus, a slide show by George Hallenbeck

Sept 5

Painting Techniques

Mystery Presenter

Oct 3

"Everyone Carves Something" Night… Carving Christmas Ornaments and Decorations with a pattern exchange.

Nov 7

Carving Native American Flutes

Mike Bloomquist

Dec 5

Christmas Party
The Workshop with David Sabol
What a great time it was! Since this was my first time, there is no previous workshop to compare it to. I believe a 'fine time was had by all'... even the 'bird carvers'. More on that later. As advertised, David offered us two carving projects, a characature Santa holding Rudolph, or a downy woodpecker. Then he pulls out a surprise third project offered in only one class before ours. There on the table is a dancing 'German' Santa complete with leiderhosen and beer steins. Harold Kaltenbach, my carving partner for the week, has a large German background, so his eyes lit up like Christmas (quite appropriate). Me, I don't have much German in my ancestry, but Harold has had to put up with my Scandinavian carving 'stuff' for years, so this is payback. Besides, the other Santa project was on the cover of Woodcarving Illustrated a couple years back, and here, suddenly, was fresh material, new territory. We're both psyched. Then there was another surprise bonus. One of the carvers in the group who was giving me an inferiority complex just at the prospect of carving the same characature project, decides to carve... what? the bird! Go figure! Well, to avoid casting a stigma, we won't mention their name here, just call them 'Carver X'.

So, everyone decides on their projects for the class, the blanks are passed out, seats are selected, tools are at the ready, and the wood of choice is... wet/green white pine! Make no mistake, it is wet, and it is green-with-a-capital-'G' green. In fact David brags that he hand picked it, freshly cut, from a lumber mill only two weeks prior to these workshops. No sooner does that shock subsides when David starts carving with the blank in his lap and an eight inch plus chisel aimed at his navel, hara-kiri style (You know 'hara-kiri'... ninja suicide, rectangular cut, remove stomach). Two woodcarving myths blown to heck in one evening, and I still have to drive home. After completing the course, hey, I'm a believer! That white pine was really easy to carve green and soaked, even on the end grain. Though, it did leave this embarrassing wet spot in your lap if you weren't careful. As for the curious carving grip, it looked much more dangerous than it was. If you watched carefully, he braces his wrist/forearm on the piece and rotates his hand at the wrist to make the cutting stroke. Obviously he has been doing this for awhile. David vs. a Foredom tool, bet on David. He was taking off wood at a rate that would give an Arbortech lover cold sweats.

Then David did the unforgivable. Encouraging us all to make nice, curved, sweeping cuts, he added that he wanted none of this "Scandinavian flat plane stuff". Understand that the way he used that the word 'stuff', it could have been substituted with 'crud', 'junk', or other words too strong for this family newsletter! Jim XXXX, a veteran of 5+ Harley Refsal classes, was taking the class. He and I locked eyes simultaneous to our jaws hitting the table. I was speechless (which tells you how nasty the comment was). Give Jim credit. He was able to blurt out how that comment was a shame since, at the woodcarving museum in Lancaster, Pa, David's CCA carving sat right up there next to Harley's piece. Despite raising the hackles of die-hard Scandinavians, David moved the class along really well. Two and half days of good-natured bantering, carving, and learning, who could ask for more? Well, 'Carver X' might have wished for more. When asked if their bird was ready to fly yet, they replied sharply, "Sure it is, 'bout as far as that wall!" Our new bird-carver might have been just a little frustrated. We should add here that David Sabol's birds are as inspiring and dynamic as his characatures are wonderful. With the feather separation and action Carver X's project was showing, they were well on the way to matching the display bird David had brought. Wait a minute! Nuts! That means one more competition category I've got to steer clear of!
The Woodcarving Show
We did it! We made it bigger and we made it better. 'We' being a collective MVAWA 'we' of course. Walked into the new show site, saw enough room for three basketball games and a V'ball game, and thought to myself, "Yep, picked a fine time to come to my first Friday night setup party!" Actually, we had plenty of hands on hand, and it went quickly. By morning the low light and no air conditioning problems were gone. The site was great, unfortunately so was the weather. Even competing with the weather we still saw a big attendance increase, but haven't seen any numbers yet. And the winners are...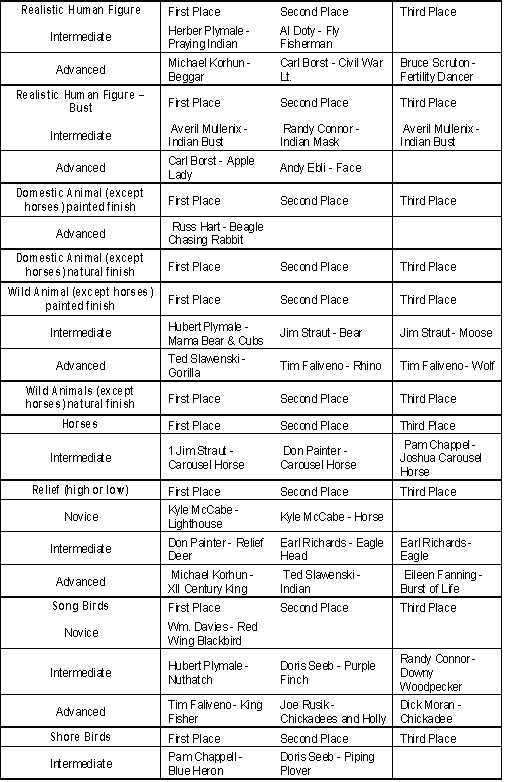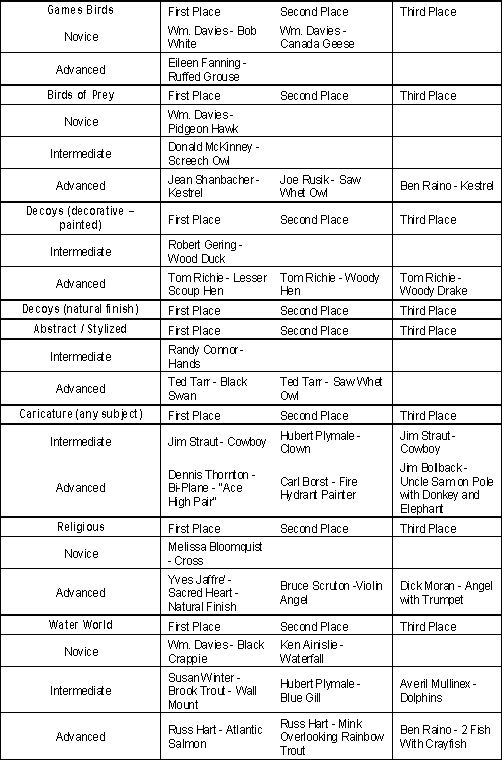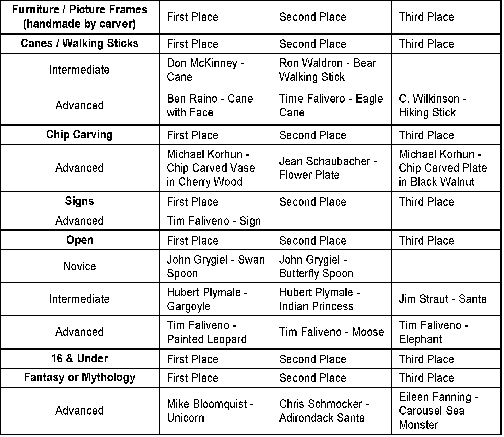 And the finalists are:
Novice
Best of Class: Wm. Davies For: Black Crappie
Second Best of Class: John Grygiel For: Swan Spoon
Intermediate
Best of Class: Susan Winter For: Brook Trout
Second Best of Class: Hubert Plymale For: Mama Bear with 2 Cubs
Advanced
Best of Class: Ted Slawenski For: Gorilla
Second Best of Class: Dennis Thornton For: Bi-Plane - "Ace High Pair"
Finally, drum roll please!
MVAWA Woodcarving Show 2000 Best of Show
****** TED SLAWENSKI For: Gorilla ******
Now I gotta beat it! We'll try to relate more on the show in the next news letter, but for now... I'm way over my quota. Don't forget the club picnic on August XX. See ya at the next meeting.

Thursday Wood Carving News
By George Hallenbeck
Thursday, May 11th - Thirty-four carvers in attendance

Well, the show was a success! We came out about $300 to the good with expenses about $2500! The Nativity Raffle also showed a profit. Many people worked on the show and I thank them all. What a great group of people!

John Raucci (fresh form his downy woodpecker experience) is now working on an unusual cane! Made from the heart wood of a Florida palm tree.

Chris Schmocker showing a fine David Sabal Santa. He started it at the class and it's an unusual one, Santa carrying Rudolph. Beautiful carving Chris!

Walt LeClair finally back into the "Big Stuff" with a stylized goose! We'll be watching this one!

Marcus Kruger " wowing" everyone with a bottle holding a large dowel with 2 large screws through the dowel and inside the bottle! Trying to figure out how he did it!

John Page's eagle is coming along nicely. It's a wonderful carving, wings outstretched. Can't wait to see it finished. Fly it in next week John!

Thursday, May 18th - Twenty-seven carvers in attendance

Monte Foster hard at work on his Kachina Doll of Basswood and butternut. It's a unique doll Hopi or Zumi type, what do I know. It will be typically Monte, although he is having some difficulty working with such soft woods.

Everette Botsford coming along great with his eagle. I think it started out as a Falcon and now the wings are all Eagle. Everette can really "wing it" so we're sure it will fly just fine.

Carl Borst working on a Native American Indian face in walnut. Looking good as usual!

John Raucci working on a cane handle with a woodspirit face on one end and a rattlesnake head on the other.

George Terwilliger finishing up another beauty and Carol Ayers halfway there on a nice cedar cane. The design and dark and light contrast is stunning.

Marcus Kruger brought in a nice bunch of tulips carved from cedar, sumac, butternut and basswood. Just another Kruger special. He continuously amazes us! I haven't been carving much since the show and I have to finish my David Sabol Santa started in his class. If you've never taken a class by a well known carver, your missing a great experience. We hope to have more in the future.